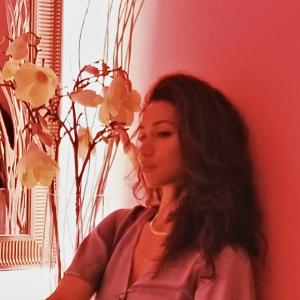 Hana Elmasry
Mississauga & Toronto , Ontario
Hana Elmisry is a painter, educator and counsellor. Hana's praxis engages with concepts in cognitive science and visual art. Her work seeks to guide its audience to their own conclusions by grounding them in a relationship between the artwork and their own perceptions. As an educator, she facilitates agency and the capacity for reflection through mark making and expression. She challenges built concepts by asking her audience and her clients to be mindful and reconsider categorized perceptions.
She has worked alongside United Nations, CAMH, Power Plant Contemporary Gallery and various shelters to empower children, youth and adults.
Hana's program dives into the technical and conceptual aspects of mark-making, presenting a variety of experimental painting techniques while engaging participants in discussions about the self, perception, authenticity, and autonomy.
Hana uses various materials and mediums to help express and facilitate expression. Each piece emotes instead of represents.
@miserably__happy @h.e.art_
https://www.corkingallery.com/artists/hana-elmasry/a-exhibitions -----
"These pictures... my work smells better in person." "Paintings for personal preference and environment are also available. DM for commissions or general inquiries "
Best regards,
Hana Elmasry
---
Why is art important to you?
Expression
When I'm not making art, I'm (a) ...
Playing with my baby alligator, the Argentinian Tegu, Bane
Which piece of art you've created is your favourite, and why?
The ones with the wax because they smell
Select Past Exhibitions
2019
2019
2019
2019
2018
2018
2018
2018
2018
2018
2018
2017
2017
2017
2017
2016
What do you mean, "try"?
Try-before-you-buy with a 3 month rental. 100% of your rental payments go towards the purchase (interest free). Message the artist directly, and start the conversation.
---
Art made (truly) affordable
We make it easy for you to try art with smart payment plans and try-before-you-buy models.
See How It Works
---
You're covered.
Artwork protection is included on all art rentals up to $10K. Our Customer Care team is always here to help.
Contact Us
---
Unlock Trade Access
For industries including interior design, film/TV production, & real estate staging: rent original pieces that fit with your project vision, budget and timeline.
Apply for Trade Access
---
1% from every transaction goes towards a Canadian arts nonprofit.